Prepare Your Windows Computer or Laptop
Check my PC
To ensure smooth Gamblock® operation and secure your financial details from offshore theft, malware must be removed from your computer(s) by using Check my PC. Click here to download the application.
Once you've downloaded the application, you'll need to:
1)
Select which version of Gamblock® you have installed.
2)
Tick the "Clear my gambling history and old files" box.
3)
Tick "Send me help as required".
4)
Enter your Transaction ID from your purchase (or "0000000000" if your Transaction ID is unavailable or you would like to check another computer).
5)
Enter your email address.
6)
Click "Submit".
Please refer to the example image below.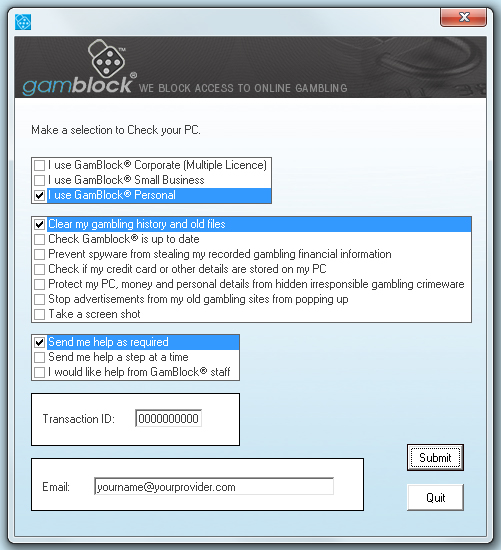 You will then be sent an automated email, which may include steps explaining how to protect your computer. If an issue persists, please don't hesitate to contact us.